back
Social Networking (Advantages and Disadvantages)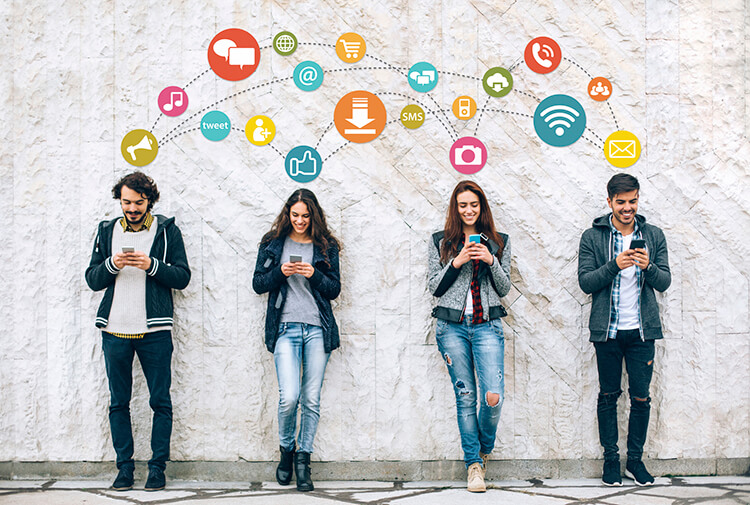 With the elevation of technology, communication has grown.
It is now easier to communicate and connect with people across the world. Nowadays, the issue of distance is no longer an excuse for lack of communication.
The Internet is rising quickly and today we have a large variety of social networking sites. Thanks to those sites we can communicate and share our thoughts, emotions, ideas, etc. It is easy to share information like pictures, advertisements, video and text messages. Around the world, billions of us use social media every day, and that number just keeps growing. We use it for every part of our lives-in our personal relationships, for entertainment, for work, for business, etc. Our growing development of social media is not just changing the way we communicate, it's changing the way we organize our affairs and businesses, and the way we live in society.
Nowadays if can't reach someone on the phone, you can text him/her or just leave a voice message. There are many types of social networking sites like Facebook, Twitter, Instagram, LinkedIn, WhatsApp, Viber, Snapchat, etc. The most popular is Facebook as it is the biggest social media network on the Internet, both in terms of total number of users and name recognition. We also have an ability to see what others are doing, often within seconds of them doing it.
Due to social media search functions we can also make it easier to find the person who we are looking for or may have lost touch with them. In every sphere of our life there are many advantages and disadvantages, and social networking is not an exception. Let's discuss some of them. We all share photos, videos, personal information, etc, but do we think about the privacy? With so much sharing going on, issues over privacy will always be a big concern. Sharing too much with the public can open up all sorts of problems that sometimes can't ever be undone. We may share our location and it could also be a big problem.
Lastly, since social networking is all done on small sort of computer or mobile device, it can sometimes promote too much sitting down in one spot for too long. Staring into the artificial light from a computer or mobile phone screen can negatively affect your ability to get a calm night sleep. This was a dark side of social networking, now go ahead and discuss the light side. One of the most obvious pros of using social networks is the ability to reach people from anywhere. Use Facebook to stay in touch with your old friends from school or university who've relocated all over the country or even the world. Due to social networking sites our communication becomes easy and instant. Now that we are connected wherever we go, we don't have to rely on our landlines, answering machines or snail mail to contact somebody. We can simply open up our laptops or phones and immediately start communicating with anyone on platforms like FB, Instagram, Line, WhatsApp, etc. One of the big pluses is a great opportunity for business owners. Business owners and other types of organizations can connect with customers, sell their product and expand their business via sharing their page with others.
In spite of some disadvantages, anyway we are still in good opinion about social networking sites because the World grows qucikly and we should move on together. It is very important to be a moderate person in every area of life and due to this nothing would be dangerous!
We hope you like our articles! Thank you for your time to read our extremely interesting topics!