back
Outsourcing vs Outstaffing: Which One is Better for Your Business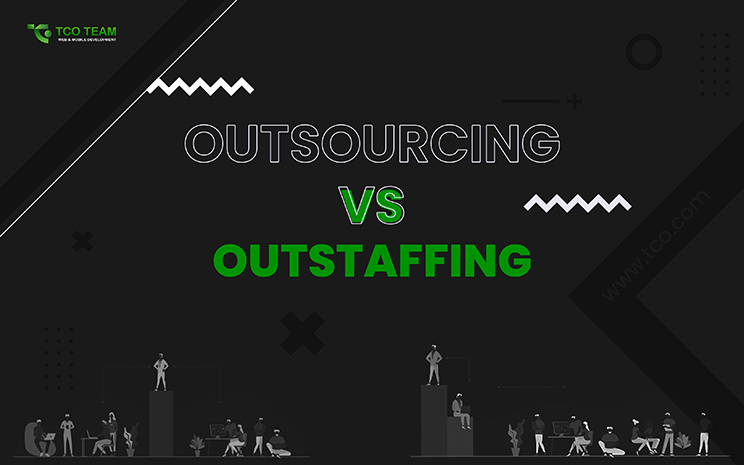 Outsourcing vs outstaffing? This is one of the most frequently asked questions concerning software development. Which is best and what is the difference between them?
Because of the expansion of operational pressures, more and more companies are transitioning from in-house to other IT staffing models.Technical innovations have created a greater need for skilled laborers with wide-ranging expertise.
Software outsourcing and outstaffing can both save your money and time, but how to choose which one is better for your business?
Let's learn more about each of them.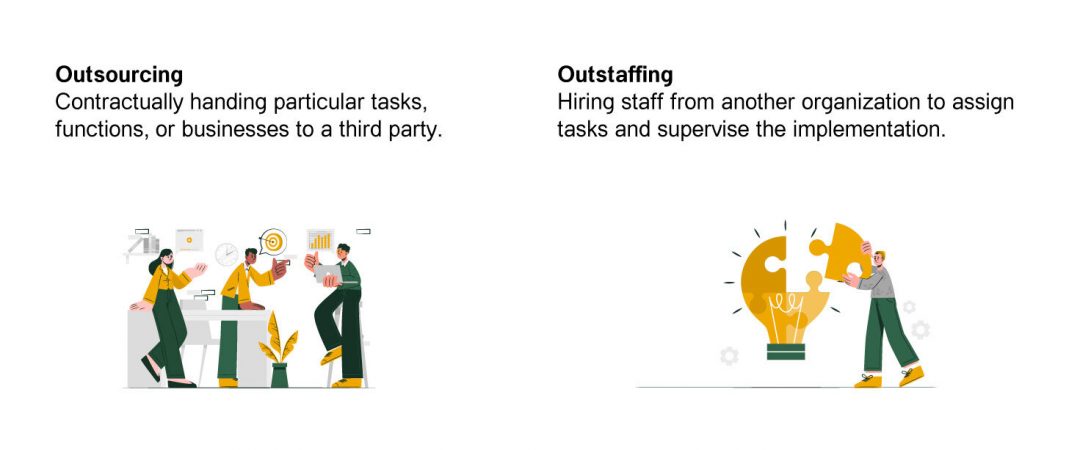 What is IT outsourcing?
Outsourcing is when an organization or individual hires the services of a programming team, giving them a mandate to run all core software development processes.
The client gives the outsourcing company explicit instructions, planned software requirements, and general expectations of the end result once a contractual agreement is signed. The only requirement from the client is that the programmers produce a high-quality product.
When it involves extending capabilities of your IT staff, there are many ways to define the alternatives before you.
More often we will meet IT outsourcing, that is, outsourcing of information technologies, work on the maintenance of software products. It's obvious that it's connected with lowering development expenses.
Outsourcing Model
Hiring an outsourcing software development provider is delegating the whole project to a selected outsourcing company. Outsourcing IT development doesn't have to mean working with a company in another country; it can be done in-house, nearshore, or offshore, depending on how much money the client wants to save.
The client gets benefits as access to skilled expertise, reduced overhead, flexible staffing, significant cost savings and plenty of more. This model works as illustrated below: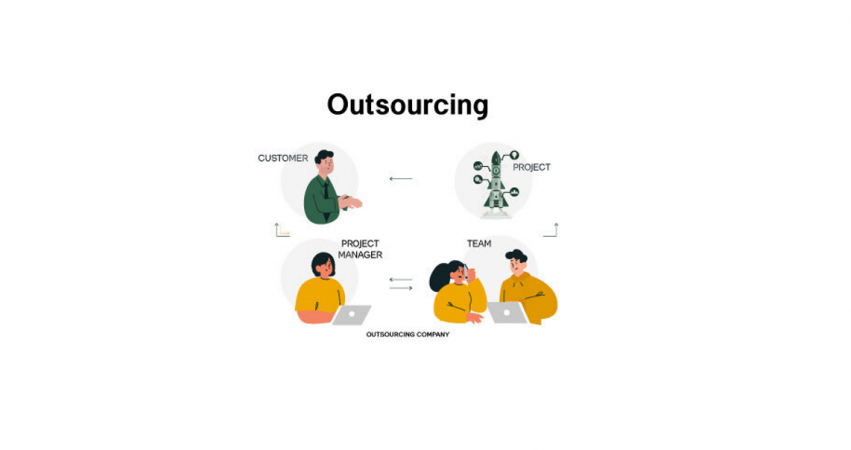 According to this model, the outsourcing company's Project Manager is in charge of practically all communication and project management during the development process.
Clients rarely get access to the entire development team, and team members may be working on multiple projects at the same time.
Finally, the client receives a turnkey project. Depending on the engagement model chosen, the project's final cost may exceed the specified budget.
How Outsourcing Model Works
In case the company that orders the service has its own staff, the head of the company, the clear structure, and policies, the staff of the company need to be trained.
Companies that provide services are solely involved in specific tasks and are supervised by the customer's own people. The contract is either permanent or temporary.
When an outsourcing company takes all of the responsibilities for maintaining a business process, the customer company retains its own staff, but only for non-essential duties. Employees who work for a company that provides outsourcing services are occasionally included in this group.
When the staff of the outsourcing company are constantly in the customer's company, they're subject to the customer's management and may or may not report back to their employee. In this case, the outsourcing company may also participate in recruiting qualified staff.
There are cases when two or more outsourcing companies cooperate, if the customer company has branches in several countries of the world with a home office, information technology department or another outsourcing company, functions may be shared locally, when the local company is present only for "physical" user support, while the remote administration from another country is responsible for branch infrastructure.
Outsourcing advantages
By utilizing external services, your business has access to solutions like threat monitoring, infrastructure management, and crisis resolution. Some organizations outsource their entire IT department, whereas others leverage consultants to enrich their internal resources.
Anyway, the advantages of IT outsourcing are distinctive when put next to traditional in-house staffing models.
Flexibility
IT outsourcing helps you divide tasks across a group of experienced specialists for a quicker turnaround.
With larger staffing flexibility, your business can scale IT resources depending on project progress or seasonal needs. It's no doubt that 92% of businesses invest in strategic outsourced IT solutions.
Competitiveness
In a third-place ranking of outsourcing IT benefits and drawbacks, competitiveness comes in second. If you're lacking proactive IT leadership, the outsourcing providers will help your enterprise to become more competitive, efficient and agile by leveraging the newest technological resources.
IT outsourcing companies help you master new technology, develop Associate in Nursing innovative methods and adopt a fresh business model, this leads to rising your competitive position in the marketplace and helps you against an ever-changing cyber threat landscape.
Therefore, organizations progressively use outsourcing to remodel the competitive landscape, reposition their companies, and renovate the method they do businesses.
Efficient experts
Outsourcing IT allows businesses to access highly qualified and skilled human resources from IT corporations. They often handle tasks and needs from simple to regular.
Moreover, they're going to bring your businesses additional information regarding technology solutions. This means that less time is required to complete and finalize tasks, regardless of size.
Focus
If you outsource some tasks that aren't the core of your business, you may have more time and labor to concentrate on core initiatives. Whether you're outsourcing daily tasks or your full IT infrastructure, both mean less time and money spent on addressing reactive fixes and training employees.
Company's reputation
Companies usually hire outsourced employees with the understanding they'll be employed for a limited time. Thus they can more easily drop or add people to the workforce without jeopardizing the company's reputation.
High labor efficiency
High labor efficiency is one among vital necessary elements of this list of outsourcing IT support pros and cons.
One advantage of using outsource, which is highly valued by businesses nowadays, is high productivity. Outsource service providers have the ability to coordinate human resources, make full use of the workforce they have to complete the received jobs. And when we have the utmost use of human resources, labor efficiency is additionally much higher.
Outsourcing is preventive
Outsource service providers may simply ensure that their clients are provided on a consistent basis because they have a vast workforce. They normally have a system in place, so there are always a variety of personnel available for a client. As a result, the risks of business operations being disrupted due to a lack of provision might be passed to outsource service vendors.
Access to advanced technologies
In the world of technology and science booming these days, most companies have to expose a large range of innovative technologies if they do not want to be out of date and left behind by competitors.
However, investment in technology innovation isn't a piece of cake, it always requires a large amount of capital. Especially, when technology continues to change, it becomes more difficult to absorb it.
Outsourcing IT disadvantages
Lack of coordination
Some businesses may decide to mix together outsourced consultants with their in-house staff. While hybrid IT solutions can be very effective, they still require IT leadership, whether external or internal. Without an IT leader, redundancies are more likely, and responsibilities are masked.
Lack of internal familiarity
There is a prevalent misperception that outsourced IT teams lack the necessary familiarity with your IT infrastructure as compared to in-house professionals. Make sure your outsource team is well-versed in your business and its infrastructure before onboarding to guarantee a smooth transition.
Lack of flexibility
The outsourcing provider provides the IT services stipulated in the contract using whatever technical platform it considers a fit. A company's ability to switch to a different computing platform may be limited unless it is clearly stated in the contract.
What outstaffing is and how it differs from outsourcing
Outstaffing presumes a form of personnel "rental" from a 3rd party company. This kind of employment is special because an organization outstaffs a specific part of its legally registered employees to meet their duties and execute the tasks set by the customer company.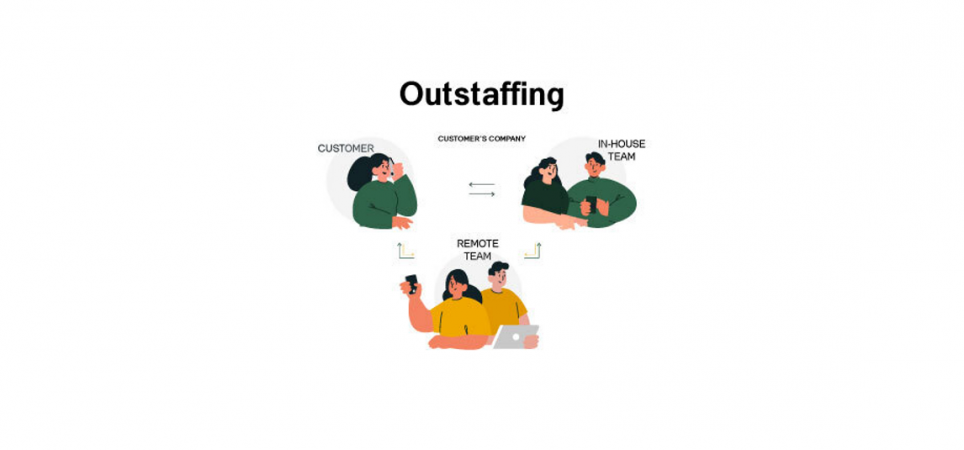 The mechanism looks like:
A customer addresses a software development company and makes an application specifying what specialists, in what technology, for what time they need, and what tasks they need to solve.
The contractor company locates potential employees and negotiates a service agreement with both sides.
A customer pays the company a fixed sum of money for every specialist and instructs the hired staff to meet the required tasks.
A specialist has labor ties with an outstaffing company but not with a customer company from a legal standpoint. The outstaffing firm offers services to a customer in accordance with the contract, and the customer firm pays for them.
A project is managed by a customer, and a team simply adapts the current methodology, processes, monitoring tools, and communication strategy. Typically, a client hosts repositories and manages them through automation.
Outstaffing advantages
Simple personnel hiring and management
Because an employee signs an employment contract with an outstaffing organization but not with a customer, the latter is not responsible for these issues.
This method relieves the administrative and accounting departments of the customer firm.
Delegated financial matters
Wage calculation, accounting, and payment, as well as taxes and other fees, are all handled by an outstaffing agency. Only the sum mentioned in the contract is paid by the customer.
Rapid expansion
It is possible to quickly hire the required staff for a specific project or to enter new markets in other countries with no need to register a legal entity there.
Cost reduction
Management costs are cheaper than outsourcing because customers manage the assigned teams themselves.
IT Outstaffing Disadvantages
Communication issues
If the cooperating parties misinterpret some tasks while working on the project, issues may arise. As a result, it's critical to establish and maintain communication channels that are beneficial to both sides.
Motivation problems
When a company hires both normal workers and outsourced employees, the quality of the work done may suffer. Outsourced employees may lose motivation because they do not receive the same benefits and bonuses as normal employees.
Higher responsibilities
Prepare to take on more responsibilities if you opt for an outstaffing approach. To handle a project more efficiently, having tech-savvy individuals on the team is highly recommended.
So when to settle on this model?
When a company has to handle tight technical challenges, rapidly expand the team, and address multiple other issues, an outstaffing approach in software development is a sensible solution.
This model will work for you if:
You have a special task that requires certain skills that aren't available among your company's employees;
Your project manager or lead developer has skills, experience and qualifications to manage the external team, create a backlog, and control the process of its execution;
The process for remote team members to gain access to infrastructure and development environments is clear, well-defined, and secure in terms of corporate security.
Your company's operation is set up: each company employee comprehends the tasks to be completed within the current stage, and you have all the tools to set and perform tasks.
What would be the most effective for you?
Now once you know the difference, let's discuss a way to apply this difference to your business. Whether you want an IT outsourcing agency or it's better to travel with an outstaffing company fully depends on your needs.

Outstaffing will provide profitable and effective results if they're properly performed with business initiatives. However, you need to be prepared to take on greater responsibility of the remote development team as you will have full control of the software development process.
Outsourced software development is best for startup companies or businesses that don't have a development department. In addition, it's easier to clarify your needs to an outsource software development provider, delegate the method to the partner and discuss budget and time estimates.
About TCO
TCO team is an IT outsourcing company that offers a wide range of professional IT services to companies of all sizes.
Our objective is to help businesses in a variety of industries improve their operations by developing high-end web and mobile applications.
We've developed innovative, effective, and cloud-to-edge solutions to some of the largest companies around the globe.
If your company needs high-end outsourcing services, our experienced and qualified specialists will be happy to help.
Contact us for free consultation.